On February 19th, 1945, the United States Marine Corps landed on the beaches of Iwo Jima. The USMC would fight for the next 36 days. The battle was a victory for the United States but came at a cost of over 26,000 American casualties. The key to success was the impeccable leadership and the valor of the American troops. Fleet Admiral Chester Nimitz would go on to say, "Uncommon valor was a common virtue" at the Battle of Iwo Jima.
Only 75 of these engraved 1911 pistols will be made. Heirloom Arms LLC is proud to partner with the Marine Corps Association & Foundation (MCA&F). For every pistol sold, a donation will be made to the MCA&F. This donation will help support the organization's mission.

American Made 1911 .45 ACP Pistol
In 1945, the sidearm of American forces was the 1911 pistol designed by John Browning. Since this model of pistol was carried in the Battle of Iwo Jima, Heirloom Arms LLC has chosen to use an Auto Ordnance 1911 pistol. Auto Ordnance, now part of Thompson, has been manufacturing 1911s since 1917 and is made in Worcester, MA. You also have the option to upgrade to a Colt Government Model 1911.
Only 75 Pistols Will be Made
Since the Battle of Iwo Jima is celebrating its 75th Anniversary, the edition will be limited to only 75 pistols ever made. Each pistol will receive its very own edition number that will be engraved below the muzzle. The edition numbers are assigned on a first come, first serve basis. You may choose your number if it still available. The engraving will include edition number "of 75".
Donating and Supporting the Cause
Each pistol proudly has the logo of the Marine Corps Foundation & Association engraved on the top of the slide. Since the majority of the battle was fought by the USMC, this organization was chosen by Heirloom Arms LLC to receive a donation for every pistol sold. The donation will support their mission and further continue the rich history and traditions of the USMC. Visit their website at
www.mca-marines.org
.
American Craftsmanship
Each pistol is engraved in Rapid City, South Dakota by a firearm engraver with over 40 years of experience. There are 3 different layers of plating on the slide of this pistol including 24 Karat Gold. The grips are made of maple and laser engraved to showcase the history. You have an upgrade option of adding additional text to the grips.
One-of-a-kind Gift and Heirloom
At Heirloom Arms LLC, we support our American right to own and bear arms as stated in the 2nd Amendment of the Constitution. It is an American tradition to hand down one's firearms to the next generation. With the history engraved onto this pistol, the "Uncommon Valor" of Iwo Jima will carry on. Whether you are giving this as a gift, adding to your collection or honoring a memory, this pistol will carry our history and heritage forward.
Fundraising Item
Are you part of a group that depends on fundraising? This pistol is the ideal item for any fundraising event. Whether it is a silent auction, live auction, raffle, etc., this firearm will generate interest and funds for your organization. Make sure to mention to your fundraising needs to Heirloom Arms LLC and we will offer a discounted price for your event.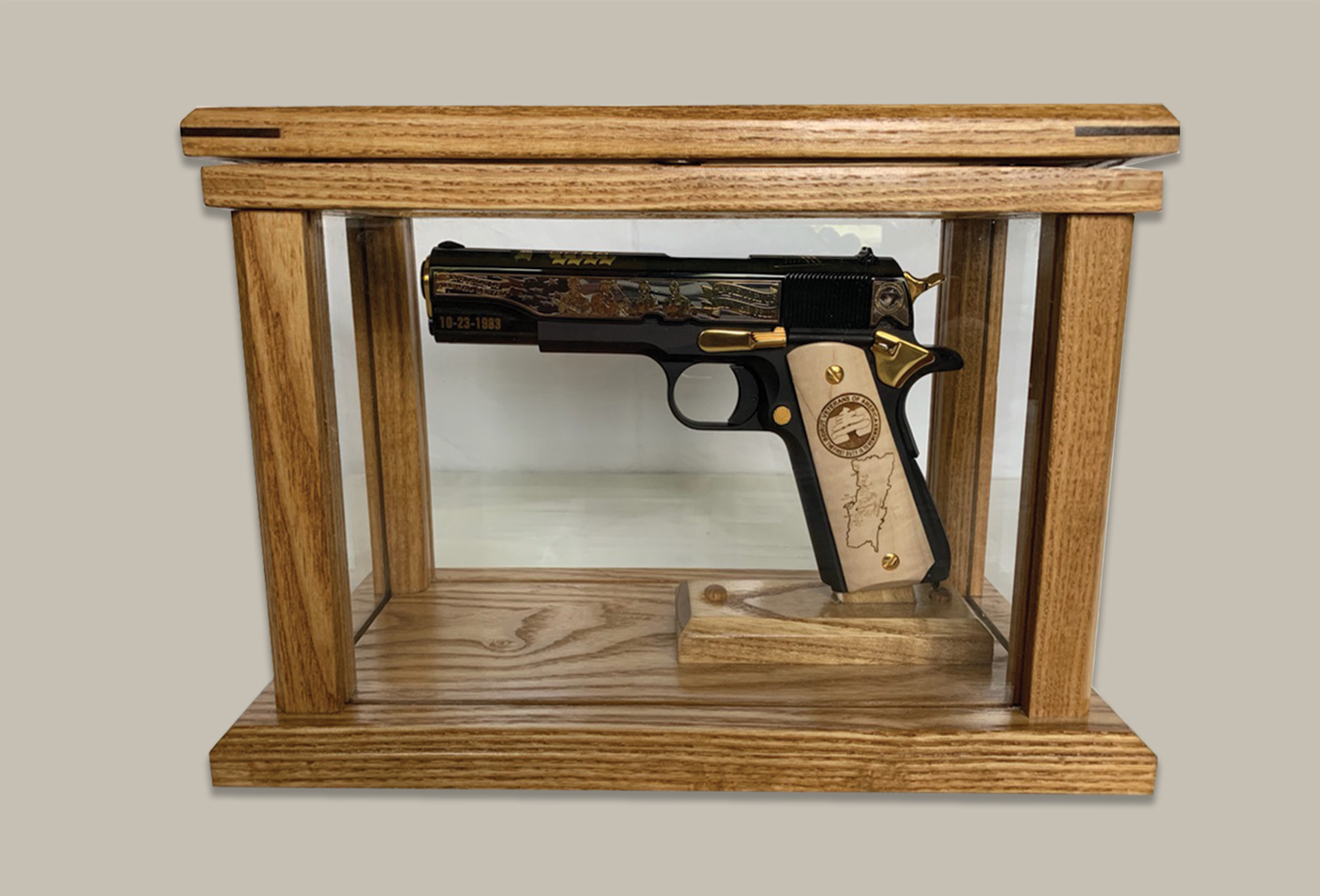 Showcase your limited edition 1911 with our custom made standing glass display. Contact us today to add this item to your order.