This is just a follow-up to the telephone message I left earlier today. I received my Henry rifle #14/15 today and wanted to let you know how impressed I am with the quality workmanship displayed on the rifle. I truly am glad my wife encouraged me to make the purchase. This rifle is a special part of my weapons collections and will remain a part of my family. Thank you very much for the excellent craftsmanship.
Thank you very very very much for the unbelievable rifle. That is by far the most beautiful weapon I or he has ever seen. That thing is truly stunning. You are a master at your craft. I believe you said to me that the picture doesn't do it justice and you are right. The gun is a work of art and my father-in-law is putting it in a display case in the family room. As soon as the case is finished I will send you a picture of it. Thank you again I couldn't be happier with it. The engraving on it is truly amazing.
The rifle has come in a few days ago. I went to the gun store the day before yesterday and filled out all my paperwork for the background check. It will be about ten days before I
can
actually pick up the rifle.
I did have the gun store show it to me, however, and I LOVED it! The folks at the gun store loved it too. I can hardly wait to get it up on display.
Thanks for the hard work you and your team put into this and thanks for your artistic ability – much appreciated. I am sure this will be a conversation piece when I have company at my home! 🙂
My husband absolutely LOVED this gun. He shows it to everyone. He was very surprised and very appreciative. I was very please with it. It's so nice and well made. So glad I made the decision to purchase it for him.
Thanks again for all of your help on this.
I picked up the shotgun for my husband today and it is amazing. He is going to be so surprised at Christmas. The detailing and workmanship is superior.
Thank You for Your help and follow up. Great Customer Service
I've got my gun. I picked it up from David 10-25-19. Him & I were both very impressed with the gun. You guys do good work. Maybe we can do business in the future. This is the first commemorative gun I've ever purchased. Again, thanks, & keep up the good work.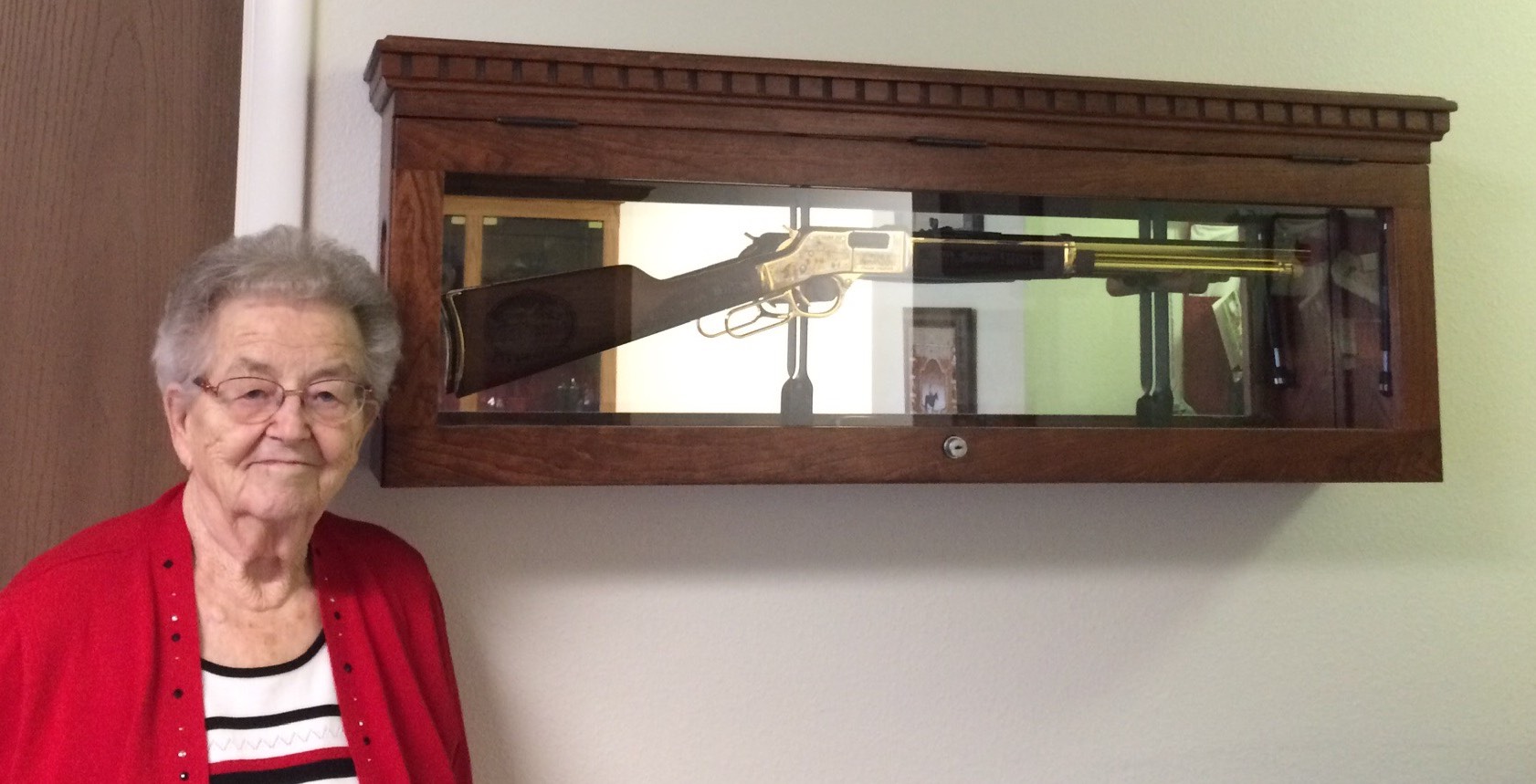 To Heirloom Arms LLC.
The Wyoming Territory rifle is a beautiful piece of art. I was particularly drawn to it when I saw the engraved image of my Grandfather Guy Holt on the butt of the gun. I am 87 years old but could not pass up this wonderful gun. And thank you for offering a beautiful display case to show it off.
The rifle is perfect! Thank you very much. It couldn't be better. Perfect job!
The gun is not what I expected….. ITS WAY MORE!!! It is truly a work of art. I am very happy with it and the .22 as well. I only concentrated on the metal work when I looked on line, the work on the stock was shockingly awesome. Thank you!!! And your team of craftsman. For a special piece I can pass to my son some day and he to his etc… Excited!!!!!
Hey Jim, just wanted to let you know that I picked up the rifle this afternoon, so super cool, I am totally blown away with it. Thank you so very much!! It is a great addition to my other railroad rifles!! Take care
Just wanted to let everyone know The Wyoming Territory Commemorative 45 Colt is the most enticing Rifle I have ever owned. It's absolutely beautiful the engraving is nothing I've seen before, Love the history this rifle brought to my collection. I would recommend Heirloom Arms LLC For their precision craftsmanship. Well worth the money and time involved. I anticipated a very nice collector and was totally blown away when I finally had it in my hands. Thank you Jim and your Team for giving me the best fire arm ever.
The written flier does not do it justice. The engraving is phenomenal. It's worth every penny after seeing it in person. I own a lot of weapons, however this is my prize possession! It is a great commemorative for a very rewarding career with the U. S. Marshals Service! Simply a work of art! Please feel free to use my remarks to advertise this rifle.
"We could not be more pleased with the quality of the workmanship on the Missouri Bicentennial Rifles. The beautiful rifles made the perfect pieces for our fundraiser auctions, and our members could not wait to get their hands on them. The artistry and the customer service made the whole experience a pleasure!"