Dedicated To A Man Who Needs No Introduction
100 Years ago, America lost one of its most honorable leaders. Theodore Roosevelt was a man with a vision that was unsurpassed for his time. His vision brought our country success and his achievements are still recognizable today. From his efforts in conservation to the historic Panama canal, Roosevelt's thumbprint is still found today. One of his passions was his love for hunting. He was brand loyal to the Winchester firearms and we are proud to place his legacy upon a limited edition Winchester rifle.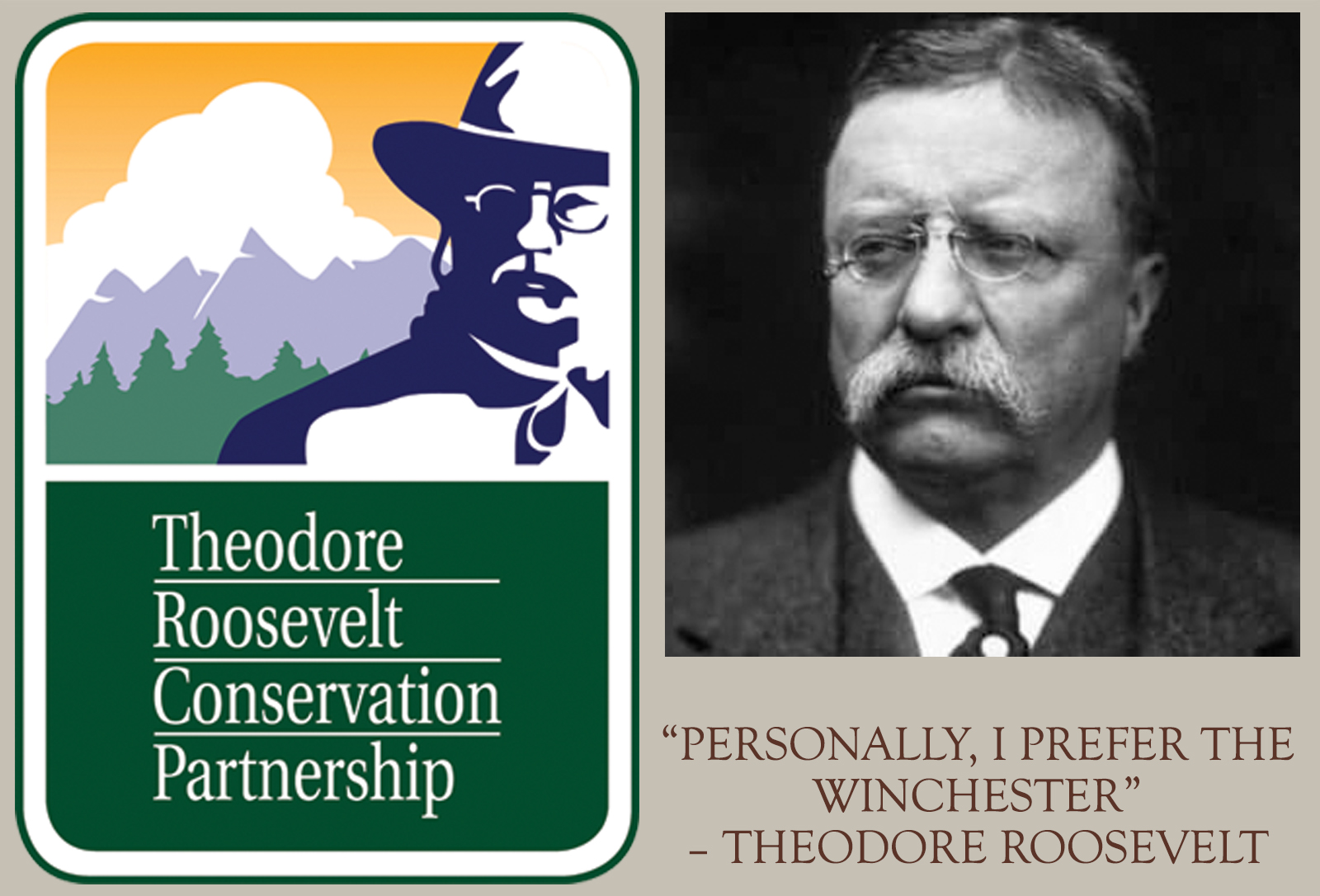 Theodore Roosevelt's passion for the outdoors is easily recognized in his lifetime. During his presidency, he established the United States Forest Service and signed into law 5 national parks. Today, the Theodore Roosevelt Conservation Partnership (TRCP) works tirelessly for conservation. They connect and unite organizations that guarantee all Americans a quality place to hunt and fish. A donation for each sale of the rifle will be made to TRCP. This rifle creates a tangible legacy of Theodore Roosevelt and directly supports conservation. Click here to learn more about TRCP.
Winchester Model 1873 Lever Action Rifle
Roosevelt's favorite firearms were the Winchester rifles. The Model 1873 is the "Gun that Won the West" and Roosevelt was fascinated by the frontier. Combining these two legacies makes this item historically unique. You have the option of getting it in .44-40 Win or 45 Colt
24" Octagon Barrel and Grade II/III Walnut Stock
The octagon barrel gives this rifle the classic western look and the upgraded walnut stock shows the beautiful grain of wood.
24 Karat Gold Plating
Man is fascinated by Gold and has been deemed a precious metal for centuries. To add value and capture the importance of Theodore Roosevelt's achievements, all of the metal is plated in 24 Karat Gold.
Only 50 Rifles Made
Each rifle receives an edition number that is engraved on the top of the receiver. Edition numbers are assigned on a first come first serve basis. The earlier you make a deposit, the lower the edition number.
Support the Cause
For every rifle sold, a donation is made to the Theodore Roosevelt Conservation Partnership. This supports the future of conservation in our country and secures quality hunting and fishing habitat.
Ships To Your Local Shop
Each rifle takes approximately 3 months to produce. Once the rifle is completed, it will ship to a Federal Firearms Licensed shop of your choosing where you will have to pass a background check. Don't know of anyone? No problem, we can help you find one.