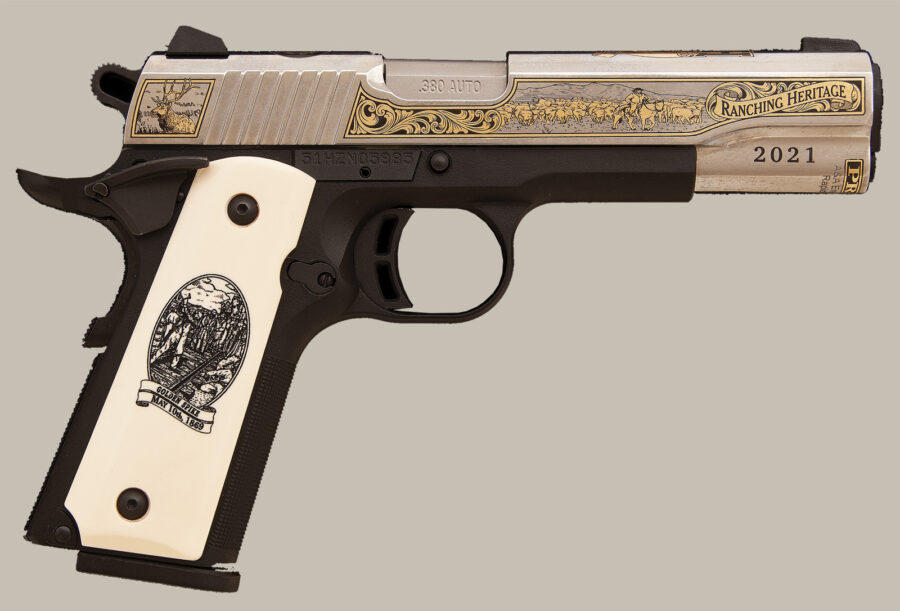 On January 4th, 1896, Utah would become the 45th State admitted to the Union. Starting with the Pioneers who originally settled the area, the state has endured and achieved many great things. Home to the completion of the Transcontinental Railroad to the 2002 Winter Olympics, Utah has been the stage recognized across the globe.
To celebrate the 125th Anniversary, a Browning Black Label 1911 pistol has been engraved to capture the icons and achievements of Utah. Chambered in 380 ACP, this is the only Browning firearm still made in Utah. The edition is limited to only 45 pistols ever being made. Contact us today to get yours!
Only 45 Pistols Being Made
Utah was the 45th state admitted to the Union therefore we thought this number was quite fitting for the edition size. Each pistol will receive a number out of 45 that is engraved below the muzzle on the bottom of the slide. The small edition size also ensures that your firearm will remain collectible since no more will be made.
The Only Browning Still Made in Utah
The Browning Black Label 1911 pistol is the only model that Browning still manufactures in Utah. John Browning himself was born in Utah making it very fitting that a Browning firearm is used to represent Utah. Made in Utah, for Utah.
Utah's Official State Gun
Utah is one of 2 states that has an official state firearm, the model 1911. The 1911 pays homage to the Utah gunsmith John Browning and is a historical icon in the gun industry. The Browning Black Label 1911 is a 85% scale of the original 1911 standard size.
Fundraising and Heirloom Item
Anniversaries only come around once. This firearm is stamped with history and will continue Utah's legacy with its future owner. This makes this a phenomenal item for fundraising. Not only is the engraving and detail mesmerizing but represents the key values of Utah residents.
Engraved in Rapid City, South Dakota
This engraver has over 40 years of experience and has produced some of the highest quality engraved firearms in the industry. The engraving process takes about 12 weeks to complete.